13 Feb. 2020
A simple handicraft to surprise on Valentine's day: Butterflies with a surprise
St. Valentine's day is the quintessential date to celebrate love and friendship. Everyone likes to receive a gift and, usually, more value is given to something personalised and made by hand and with love, than big and expensive presents.
Handicraft is a way to prove you have taken your time to think and prepare the gift for a special person, and they are also lots of fun to make!
Today, we have prepared a simple handicraft to surprise on Valentine's Day: Butterflies with a surprise. Who doesn't enjoy a gift, especially if it presented in such an original way as this! These cardboard butterflies are straightforward and fun to make, children will love to give them to their friends, teachers or classmates.
Materials you need:
Sheets of card: In your favourite colours.
Stickers: The ones you like, here we will use several stickers with hearts.
Glitter: To give it a bit of bling. In our case, we have used glitter glue.
A sweet on a stick or lollipop: The surprise of our butterfly.
Adhesive moving eyes: To give life to your butterfly.
Pompons: Used as antennae.
Scissors and a cutter (optional)
A glue stick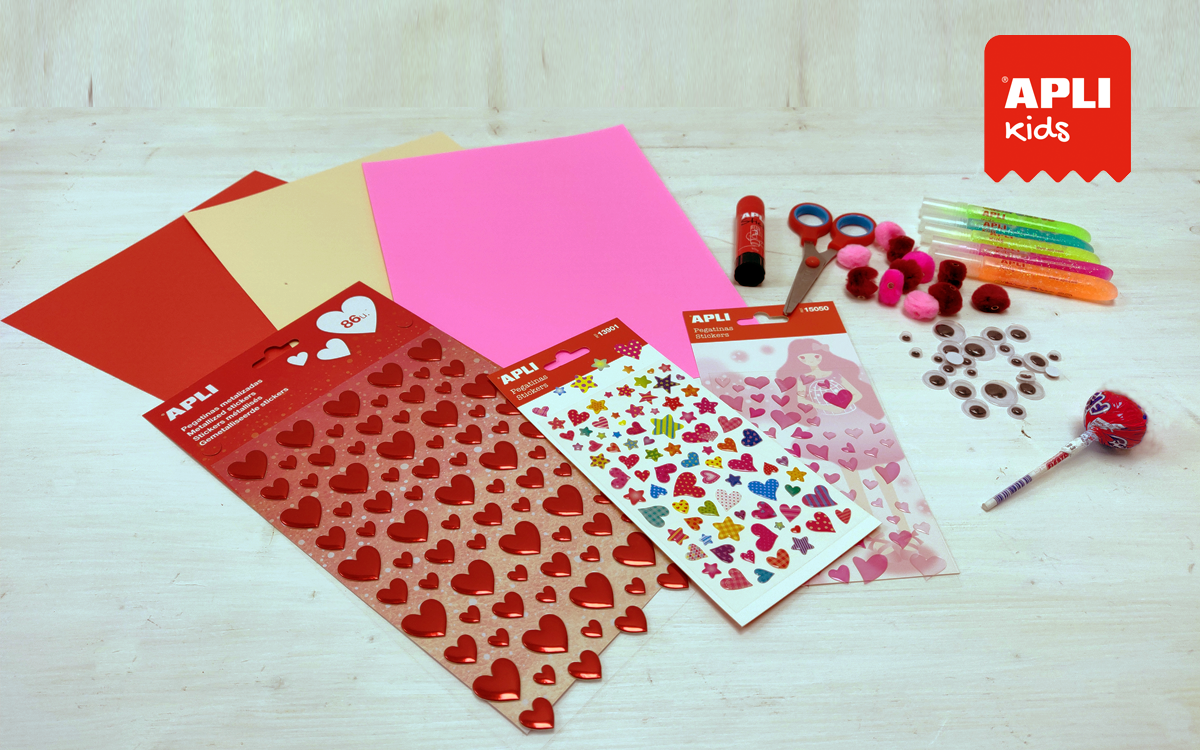 How is it made?
Have you got all the materials ready? Then it's time to begin!
The first thing to do is to give shape to the butterfly. We have prepared a template that you can download by clicking here. Print it on the coloured card or draw it yourself by hand, in your favourite shape. Cut it out and make two small cuts in the centre, as you can see in the photo. You can use a craft knife, but always under the supervision of an adult.
Then, decorate it as you like. You can write a message on the back, use stickers, glitter, make a drawing… You just need to use your imagination! The more personalised it is, the more the person you give it to will like it. You have almost finished!
You only need the most important thing, the surprise of the butterfly. Choose the lollipop you like and stick the moving eyes and pompons onto it, like this:
Once you have done this, bend the butterfly a little in the middle, vertically, and insert the sweet into the holes.
You're ready! You now have your butterfly with surprise to give to your most special person. Here are several examples for you to see that you can do it in a thousand ways.
Now it's your turn… Don't forget to send us the results of your handicraft through the social media. We look forward to seeing it!